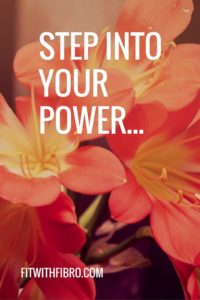 I registered for a health coaching retreat today and I cried. It was one of those ugly cries. I cried because it's been a long journey to get to this point of stepping into my power. Someone told me a few weeks ago that my story may inspire someone to step into their own. So I hope parts of my story resonate with you and that maybe you can share it with someone that might also be moved by it.
You may ask what this has to do with Fibro or chronic illness or healthy living. It does because our emotional wellness is so very much connected to our physical being. And for a very long time I fought an uphill battle trying to balance the two. Until I met this wonderful man that showed me how it is supposed to be. The reasons why I am where I am today is because I knew I deserved better and I hope that if you're in the situation I found myself in that you too realize the very same thing. Everyone woman deserves to be treated like a queen. I truly believe that. But, we, as chronic illness warriors, need and deserve someone that will love and support us even on our toughest days. I know that that person is not easy to find. In fact, it took me this long to find him. But I implore you not to give up and not to settle for any less than you deserve.
Let me back up and tell you a little about my story so that you understand. In 2008 I was married to a man that seemed to be the perfect spouse. Sure, we had our problems, but I never had any indication that soon after we were married he would throw a glass across the room toward my head. And that started the cascade of abuse that ended our marriage in 2013. I will spare you the details. But once I decided that I could not longer live like that I fought and clawed my way out until I could change the locks and file for divorce. That took a couple of years of biding my time until I could get to that point. Soon after I met a man that swept me off my feet. I had many red flags but ignored them. Please do not ignore the red flags. If you take nothing else away from this post, please listen to your gut! I lived with this man for three years, during which time the abuse kept escalating and I left. That is condensing things a great deal but you see I did not leave a bad marriage to relive it again in my next relationship. I could have stayed for convenience but I value myself too much. So I packed up my stuff, put most of it in storage, and moved in with a friend. Was that the easy way out? No, but I needed to protect myself, my heart and my pets who were also suffering. My poor cats lived in a room for two months. I will never forgive myself for doing that to them. But they were safe right? I see now that the reg flags were screaming at me early on to listen to them. But I didn't. I'm hoping that my story inspires some of you going through something similar to listen.
So back to why I cried when I registered today for that retreat. Because when I left that house in February with all my crap and no direction I promised myself that I would never settle for less than I was worth, even if that meant being alone for the rest of my life. For two months I cried. I'll be honest I think I was severely depressed. But I kept plugging along. Because people count on me to be the strong one. Until a friend I had known for several years became much more than a friend and turned out to be everything I could have ever hoped for. I cried today because I have never been so completely supported in all that I do. I've never been so completely supported in my illness. I was always jealous of those women that had that spouse or significant other. Ladies, I know they are difficult to find. But I'm writing this post not so much that you know my story, but that you know your worth and if that isn't being supported that you find a way that it is. Listen to the flags, listen to your heart. It won't lead you astray. You are powerful. You are worth every bit of wonderful. It exists. Step into that.
Peace & love,
Heather