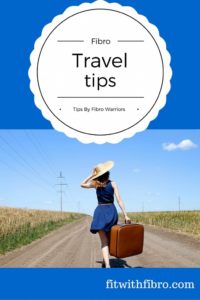 I have had several requests from my clients on tips on how to travel well with Fibro. Recently, I put up a post on my Fit With Fibro page asking for traveling tips from my followers because, after all, they know best right?? So instead of blathering on about my own tips, I wanted to share what my followers shared. So that I keep their information in tact, I'm going to provide their information in quotes, without names, to protect privacy. I hope that this is helpful! And at the end I'll add my own tips if anything important was missed. Feel free to comment below if you have a tip that was not mentioned.
"I've noticed that sitting upright really wears me out, so I try to recline as much as possible while also trying to make sure my low back and sitz bones are properly supported."
"Make sure you have your enough of your meds to make the trip and back too. Nothing sucks worse than hassling with a pharmacy to get your meds in another state."
"Go in with a positive time!!!!"
"Wear loose fitting comfortable garb. Nothing worse than a pinching waistline, especially if your fibro is flaring and you're hypersensitive."
"Yoga pants and a cami undershirt with a built in shelf bra are my best friends on a road trip!"
"I love compression wear for flights. Lulu lemon has the best, in my opinion. I also don't wear jewelry and wear my hair up to minimize external over sensitization. I plan my outfit for the airport very well to ease taking off and putting on things. I also cut out and carry all my paper prescription receipts (from the pharmacy with your name and the dosage) in my wallet just in case. Headphones with pre downloaded songs or audio books or assisted meditation for cars or the plane. A coloring book works well, too. Makes the time go by quickly."
"If traveling by car take frequent breaks and make yourself get out and walk. Carry nutritious snacks with you because it is sometimes difficult to find them on the road."
"Stay hydrated. Take blankets and pillows on a road trip. Travel with flexible clothes; I don't wear a belt when I have to sit a long time. Yoga pants and a shelf bra help me stay relatively comfortable on long trips. Build in rest times and try not to plan more than one thing at a set time each day, but have a prioritized list of other activities that you can do for good days. If you're going to be standing or walking a lot, compression socks will help your legs go the distance (if you can stand the pressure)."
"Make sure you travel companions know about your illness. Know the schedule so you can identify when you may need to rest or take a break from the group, pack healthy snacks like nuts, give yourself time to rest before departure and after arrival! !!! People tend to pack their days with activities when on vacation, it's okay for some people but not the fibro body. If you find spots in the day to rest you are more likely to maintain activity level throughout the trip. This means you have to be with a group that knows your limits and will understand when you have to leave early or opt out of an activity."
"If they are traveling very far I highly suggest a motor home, we bought one so I can lay down or recline or sit on the couch all while having a restroom handy. I also travel with a fibro "toolkit". It has an ice bag, a rice bag I can heat, a change of looser clothes, a blanket, essential oils, peppermint candies and gum and extra meds."
"It's perfectly okay to ask for help getting your luggage into and out of the overhead compartment. People are generally helpful and I've never had trouble when I had to ask for assistance from a fellow passenger."
"I get extra sore traveling especially if I'm in the vehicle a lot or in the hotel room a lot. So I always bring bath bombs I get online that have ingredients especially for fibro suffers. At the end of the day I can take a relaxing bath and it helps a lot."
"We travel often – usually road trips. Most important thing for me over anything else is frequent stops to move around. Even if it's just the side of the road. We stop at least once an hour and walk around for about 5 minutes each time."
"Build in rest periods. If you do something busy one day, have a mellow day the next. Listen to your body and rest when you need to."
"If you're travelling by plane get your pharmacy to make a bubble pack of your meds and vitamins so you don't have to carry a bunch of things with you."
"If you're on a lengthy flight, be sure to choose an aisle seat. This allows you get up to stretch out without having to clamber over other people."
"Always give yourself 2-3 or more days before and after travelling, i.e. wedding on Saturday, arrive by Wednesday at latest and limit activities until event."
"If you take prescription meds make sure to get prescriptions from your doctor before you leave if you don't have enough for your trip."
"Make a check list. Pack a week in advance."
"Pace yourself. Take breaks. Stay hydrated. Take pain meds if needed (not a time to play hero). Eat light meals."
"Take a soft blanket. Bring your pillow from home."
"I take my tens unit with me and book a place with a hot tub!"
"Stay hydrated, rest often, ask for help when you need to."
"Plan ahead and request a wheel chair in airports."
"Bring heat or cold packs, wear layers, bring option for shoes."
"Heated travel cushion is a must for me when traveling in the car, lots of coconut water for extra magnesium, potassium, and hydration, essential oils for relaxation and headaches, ear plugs for unexpected loud noises, loose fitting clothing, and my own pillow and blanket to make sleeping in a different place a bit easier."
Aren't these such great tips from our fellow fibro warriors? I will emphasize staying hydrated and packing healthy snacks. I encourage my clients to eat as closely to what they eat at home as possible to avoid food reactions, digestive distress and inflammation. I also encourage my clients to stay on their current supplement schedule. If traveling by plane, I make sure to carry my powders in their original containers to avoid being stopped by TSA. And I use multiple Monday-Sunday pill boxes to organize my supplements. Just recently I have also traveled with both coconut oil and apple cider vinegar in their original containers, wrapped super, in plastic bags and in my checked bag. They do sell a foam roller that has a hollow inside that you can store things such as underwear, socks etc. so that it isn't a space waster. I also travel with my heating pad and my tennis ball. Anything that is a must at home for keeping you comfortable is a must for travel! Sometimes this takes time, effort, and creativity but it can be done. I hope this helps you and again comment below if there is something that you swear by that is missed here!
Peace & Love,
Heather