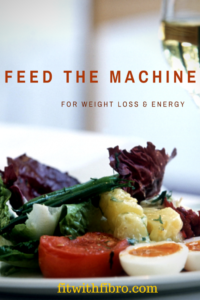 Ok guys it's time to have a real conversation about why you're not eating enough food! And I know this is a whole bunch of you! How do I know this?? Because I talk to SO many of you every day and the conversation usually goes something like this. Me…."How's your diet?" You…."Well I don't eat much."
OY!!! Ok so I'm not writing this to yell at you but to educate you and hopefully help you turn it around! Let's just think about this. Fibro peeps tend to suffer from lack of energy yes? Add to this not enough fuel during the day and you have a recipe for disaster! Let me put it like this. You wouldn't expect your car to run without any fuel right? So you can't expect your body to do the same. You can't expect it to run as optimally as possible with little to no fuel to keep it going.
Ok ok I know it's tough to eat right when we feel poopy right? I get it!!! So we must figure out ways to prep ahead of time to be prepared for those days. Because if you eat like crap when you feel like crap you will invariably feel more like crap! So by putting good, clean food into your body when it needs it most is SO SO important! I cannot stress this enough. And it's a piece so many people miss.
So what can you do to prep ahead of time? Make food in bulk that you can freeze so that you always have a healthy go to in the freezer. Use your crockpot. I love that thing! Set it and forget it! Keep healthy staples on hand that are quick and nutritious. I swear by Shakeology for when I don't want to or feel like cooking. And might I mention it's great for the hot summer! I know I'm getting over 70+ whole food ingredients and I'm feeding my body right. Salads are perfect too! Easy to throw together with some protein and you have a healthy meal! Another thing you can do is wash and cut up your veggies and some fruits ahead of time so that you can just grab and go. Raw nuts are great for a quick, healthy snack as are veggies and hummus, fruit and nut butter etc. Do you have tips for healthy snacks and meals I might have missed? I'd love to hear them!
I think you'll find that putting in a bit of effort to eat right and ENOUGH will go a long way to helping you to feel your best!
Peace & Blessings,
Heather