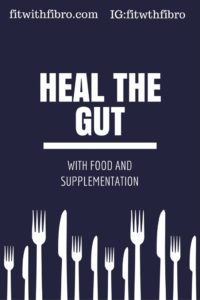 One of the most important things we can do when we have Fibro is heal our gut! Not enough attention is paid to this crucial piece of the puzzle! 80% of our immune system is in our gut. When our gut is in distress we are at increased risk for colds, auto immune issues, other diseases, cancer etc. When our gut is not working properly we lose our ability to digest and absorb nutrients which leads to food intolerances and further disease. This is one of the reasons we get sick to begin with. So in order to heal we need to first work on our guts. I personally do this as a combination of food and supplementation. Below I will outline what foods and supplements are helpful. As always, start one thing at a time so you know what's working or what may not be working for YOU. We are all individual and what works for one may not work for someone else. Oh ya and bonus?! Healing our guts can also help us lose weight! Woot! Why? Because an unhealthy gut leads to inflammation. Inflammation = weight gain.
Prebiotics
Prebiotics are foods or supplements high in soluble fiber. Foods high in prebiotics are: jicama, onions, garlic, asparagus, leeks, bananas, chicory root and artichokes. If you don't get enough of these foods you can always take a prebiotic supplement. I love my Shakeology for both probiotics and prebiotics!
Probiotics
Your gut needs probiotics for a well-balanced microbiome. Foods high in probiotics are: sauerkraut (the unpasteurized kind), kimchi, pickles (the unpasteurized kind), and coconut kefir. Sauerkraut is like my new favorite thing!! I also recommend taking a probiotic supplement because it's hard to get enough from food alone. Again, you could do Shakeology and I also recommend a refrigerated probiotic such as the one listed here.
Anti-Inflammatory Foods
Eating anti-inflammatory foods will help to soothe and heal your gut. Some of these foods include: coconut (whole, oil, butter etc.), bone broth, turmeric, ginger, avocado, green leafy veggies, fatty fish, cruciferous veggies, berries, holy basil tea, green tea, atleast 80% dark chocolate (yes I said chocolate!!) and curry powder.
Supplements
Along with the prebiotic and probiotic supplements listed above I recommend adding a digestive enzyme, l glutamine powder and quercetin to start. But again, start one at a time to see what is working!
Healing the gut takes TIME and EFFORT! But keep at it and you'll be well on your way to feeling and looking better!!
Please let me know if you try any of the above and how it's going!
Peace & Love,
Heather