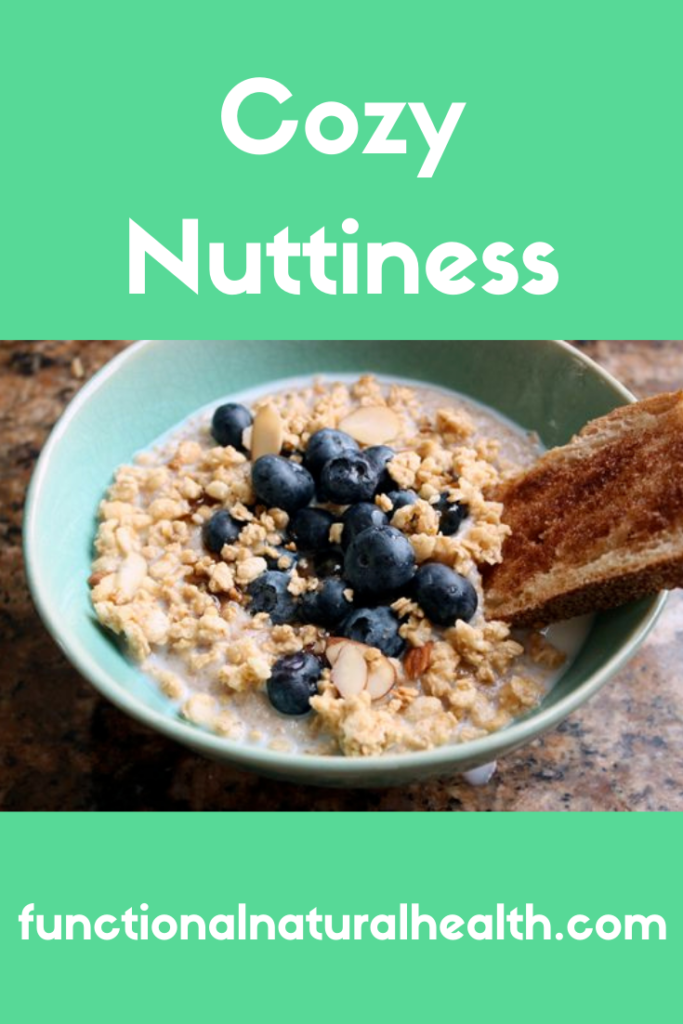 Truth be told, I am a hot cereal fan.  However, oatmeal and I are just not friends.  It is way too high glycemic for me first thing in the morning with insulin resistance as a result of cortisol issues.  But I confess I am in love with this new combination.  It's creamy, cozy, and filling but also has a nutty chewiness that is very satisfying.  Unlike oatmeal, this combination is high in protein and loaded with healthy fats as well.  An excellent choice  in particular for those seeking a lower glycemic diet (e.g. diabetes, weight loss, hypertension) but crave carbohydrates for breakfast.  Most of these ingredients are available in the bins at Whole Foods Market or Sprouts– cheap!
2 Tbsp toasted buckwheat groats
1 Tbsp hulled hemp seeds (aka "hemp hearts")
1 Tbsp ground flaxseed (not whole; they won't be digested well)
1 Tbsp hulled sesame seeds
1/3 cup coconut milk ("light" version, in the can.  Note, a whole can will conveniently last you a workweek for this recipe!)
optional (any or all of these!):  1/2 tsp vanilla or 1/4 tsp cinnamon or dash of nutmeg (If you're lucky enough to have some on hand, a pinch of actual vanilla beans*
optional:  a few drops of stevia or 1 tsp honey or 1 tsp  maple syrup*
Ideally, combine all ingredients in a small bowl the night before and stir well.  You can cover the top with a plate or lid and just leave at room temperature overnight.**  The next morning, stir the ingredients and pour into a small saucepan. Cook on high heat for ~2 min (it should be gentle bubbling).  Turn heat to low and continue cooking for 4-5 minutes, stirring occasionally to prevent sticking/burning (if necessary, add an extra Tbsp of water).  Serve hot, perhaps sprinkled with a few pumpkin seeds or a few currants or some crunchy banana chips.  Fantastic on a frosty morning!
*A couple of friends tried this recipe and shared their faves:  One loved it with honey and the pumpkin seeds.  Another one skipped the sweeteners and added a Tbsp of dried currants. Another one topped it with frozen organic blueberries; stirred in well, they melt quickly and give off delightfully summery juices.  Still another used a few drops of stevia, cinnamon, and stirred in a heaping Tbsp of organic brown rice protein powder. And one other loved mixing in some almond butter.  Yum!!
**  If you forget or don't have time to soak overnight, no worries!  Simply combine and cook in the morning.  Soaking the seeds overnight will make your cereal creamier and also reduce the phytates (minerals binders) in the mix, making more nutrients available for you to absorb.
If you try it I would love to hear from you! Let me know if you made any modifications and what those were!!