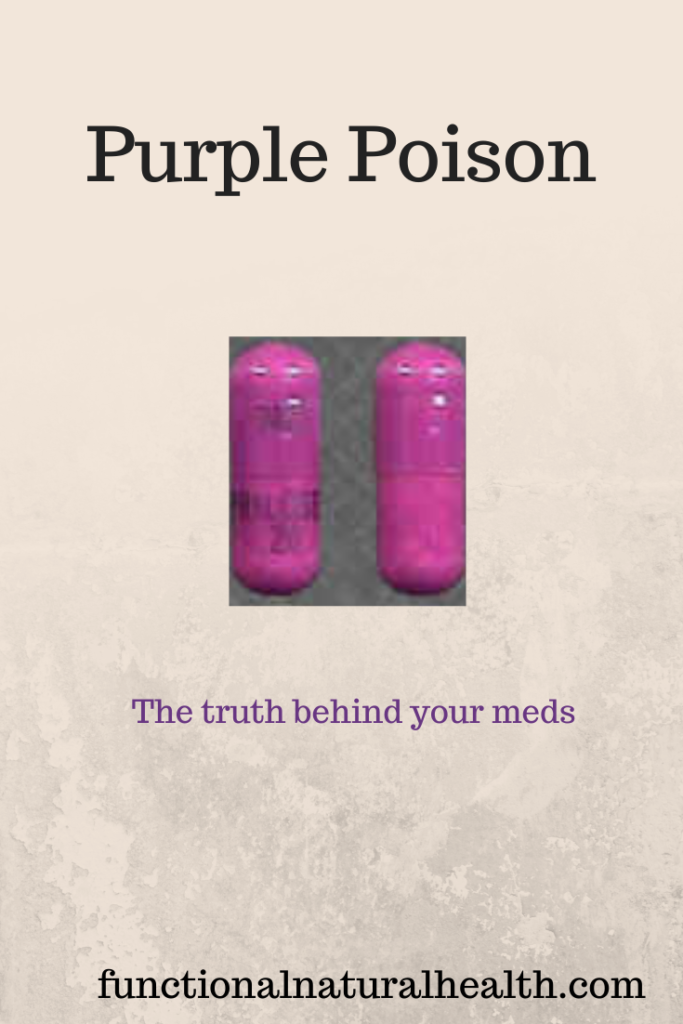 This little purple pill looks so innocent doesn't it? Let's have a little chat about why it isn't so innocent.
I have written before about the importance of getting to the root causes of anything you are struggling with. Getting to the root cause of your acid reflux is no exception. And PPI's are not the answer.
Many of today's most popular (and profitable) drugs are designed to mask chronic symptoms without providing any real healing. They keep us from feeling the effects of our lifestyle choices. They keep us from hearing the signals from our body that something is wrong. Symptoms are a blessings my friends. Think of them as a warning signal.
Nearly all drugs are designed for temporary use to provide temporary relief. PPI's are no exception. In fact, that's what the FDA originally approved proton pump inhibitor (PPI) medications to do: provide temporary relief to those with ulcers. They were designed to be used for several weeks at most. Why? Because long-term use of PPIs like Nexium, Prilosec, and Protonix can deplete your body of critical nutrients and lead to a wide variety of diseases.
Many of us have insufficient HCl (stomach acid). This is called hypochlorhydria. HCl is required to isolate key minerals like iron, magnesium, and zinc for absorption as well as for breaking down proteins. Strong stomach acid is also particularly necessary to allow the body to absorb Vitamin B12, a critical nutrient for energy, nerve function, and red blood cell formation. If we have insufficient HCl, we can consume plenty of healthy food yet still become malnourished over time because of poor digestion. All our hard work, right out the window! Insufficient stomach acid can result from a variety of dynamics, including adrenal issues, dybiosis, Candida, hypothyroidism, H. pylori, age, and medications. Medications include, you guessed it, PPI's!!!
PPI's reduce the amount of HCl our stomachs can produce. When PPI's are used for acid reflux they make gastric juices less acidic, so it isn't as painful or damaging when the juice bubbles up into our esophagus. Without getting into a lengthy physiology review, the stomach is a critical part of our digestive tract. It is lined with parietal cells which are responsible for secreting hydrochloric acid (HCl) via tiny proton pumps. When you chew food (or sometimes even just smell it), parietal cells are triggered to release this acid. In an optimally healthy body, we secrete strong amounts of stomach acid. However, if you are using PPI's, those PPIs attach to the tiny proton pumps in our parietal cells and stop the flow of acid. Thus, our gastric juices become less acidic and less effective affecting our ability to absorb nutrients. For short-term use, this can be a wonderful thing for triage. For example, if you had an ulcer or a short-term bout of acute stress that gave you gastritis. Ulcers are lesions in the stomach wall, and they need short-term relief from acid in order to heal. However, long-term healing and prevention of both ulcers and acid reflux requires lifestyle change. Studies have shown that long-term use of PPIs may make you dangerously deficient in key nutrients. Recent clinical research findings point in particular to the danger of B12 deficiency in those using PPIs on an ongoing basis.
As stated above, PPI's deplete the body of magnesium. In fact, there is now a black box warning by the FDA on the package about PPI's and their role in depleting magnesium!! In 2010, the FDA issued a warning of the increased risk of wrist, hip, and spine fractures with high-dose or long-term PPI use. Very recent research has also identified another method by which ongoing PPI might increase the risk of cardiovascular disease by damaging the protective, inner lining of our blood vessels.
If that weren't enough reason to steer clear of these not so innocent pills, here is another. Powerful stomach acid is crucial for our bodies defense against microbes, including dangerous bacteria, fungus/yeast, and parasites. Without it, we are vulnerable to foreign invasion. Microbial imbalances often cause gastrointestinal disease (e.g. IBS), but the inflammation generated in the gut can wreak havoc on the body in places far distant from the gut (e.g. arthritis). Remember, disease begins in the gut!!
Along with B12 and the minerals stated above, there are many more key nutrients that are dependent on strong stomach acid to be absorbed. I won't go into them all here but deficiency of these nutrients create downstream effects that create further disease processes in the body.
The unfortunate thing is the drug companies have found a way to make us dependent on these PPI's. A study in 2009 showed people were likely to remain on PPIs indefinitely because drug withdrawal caused even worse heartburn than the patient experienced initially. This continues to amaze me, that a drug company would profit from someone's suffering. Repeat after me…the only long-term solution for relief is lifestyle change and getting to the root cause of the problem!
I specifically work with my clients on getting to the root causes of why they are suffering. This includes weaning off medications if they so choose. Everyone's journey is different but I would be remiss if I did not educate on the real dangers of the use of these seemingly innocent pills. Please remember that weaning off any medication is crucial and should be done under a qualified practitioner's care.
I'd love to hear your story if you have used PPI's and your experience with them. Feel free to share below or send me a message!
Peace & Health,
Heather